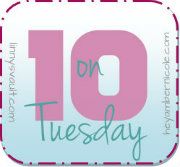 1. Can everyone please grow the fuck up already and stop with all this blogger hatred. This place is supposed to be about love & support, not petty jr high popularity fights.
2. Finally had a chance to catch up on Bates Motel over the weekend and all I can say is A-MAZ-ING. If you're not watching it then you're missing out on some uber fabulous suspense/drama. The mom is fucking nuts, Norman is so screwed up, and the older brother
Dylan
...well, I wouldn't mind takin' a run at him.
3. Teen Mom's Farrah is literally
paying for sex
. Damn girl, get a real job already.
4. Monday morning started out on a surprisingly positive note however once I was hit my ninth hour at work it had severely diminished. Wish it would've stuck around longer; makes the week go by faster.
5. I love all my (blog) girls to death but when it comes to real life I prefer to hang with the dudes. They don't judge my potty mouth or my uncool outfits.
6. Sunglasses with my eye prescription in them; I need to get on this asap. Summer is right around the damn corner, time to start prepping.
7. Only Robert Downey Jr. could wear this & not make me find him instantly unattractive. I'll say one thing, dude can really pull off short pants & a neckerchief.
RDJ at the Iron Man 3 premiere in Germany.
8. Doing your hair for work is overrated, hence why Im always sporting mine in a grade-school ponytail. Except today, I'm switching things up a little & wearing it up with a fancy BIC pen as the supporting pin. No, it's not a new fashion trend, I just forgot a damn rubber-band this morning.
9. I may or may not have squealed while watching the
trailer
. I'm so excited!
10. I have a feeling this is going to be my new Little Miss Sunshine.
* * * * *
Tag. You're it.
Create your own 10 on Tuesday & link up here so we can all check out all the random you've got going on in your head.