It's almost Friday...ooh yeah!
So I hope ya'll are in the mood to do some venting cause this week's topic is all about what annoys the shit out of you. I'm really excited to read all the linked up posts this week since it's me who's usually ranting & raving about stuff that irks me.
When I started making a list of all my pet peeves a few days ago I thought for sure it'd never end. Who the hell knew so many things could bother a person?! Geez.
So instead of listing ALL of them on here and giving even more proof that I need therapy, I've decided to only list my top 6. You can thank me later.
1. Babies at movie theaters - The movie I just paid $14 to see is not a place for you & your crying child. Get a fucking babysitter or find a theater that has childcare (yes, they exist) and go there. But don't ruin my expensive movie experience and force me to be the bitch that has to shush your kid.
2. Chewing with your gullet open - Close your g-damn mouth when chewing! I don't ever want to witness your body starting it's digestive process.
3. Talking to me in a public bathroom - Doesn't matter if you're my neighbor or my mom, when I go into a stall in the public restroom you pretend I'm in another room and can't hear you. While I'm peeing & possibly tooting is not the best time to tell me about the latest gossip.
4. Not giving up your seat - Maybe I'm old fashioned but I believe you should always give up (or at least offer) your seat to anyone who's disabled, a senior citizen or a pregnant woman. Don't be rude, get your ass up off that seat.
5. Couple sitting on same side of booth - You love one another & want to be close? Fan-fucking-tastic. But you can still do that while sitting across from one another in the booth. I know cause I do it. Also, having to turn your entire body when your talking is hella annoying.
6. Spraying perfume in public - No no no no, fuck no. My cubicle neighbor does this every day & I hate it. What makes you think I want your shitty perfume scent all up in my nostrils? I've got allergies for goodness sake!
* * * * *
Hope you'll joining the rant party & link up with us this week! Tell us, what are you major pet peeves...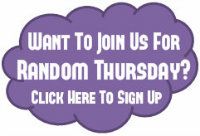 Follow my blog with Bloglovin