Woohoo another fab week of Random Thursday!
Just want to thank all you guys for sticking around & making this link-up so damn fun. You guys rock! Also, if any of you have any topics you'd like write/vlog about, let us know cause we're always open to suggestions.
This week's topic has us using our brains to go back in time...
I'd like to say I sat at the computer and immediately remembered what my favorite childhood memory was but I can't because I didn't. Truthfully I'm having a really hard time remembering anything past an hour ago :/ Old age is a bitch y'all.
I suppose I have a few great childhood memories though.
Camping
Yes, those are beds in a tent. No, that's not one of my actual camping pics. I wish. When we were kids our parents did take us camping to places somewhat like this though. I remember there being a big swimming pool, running water and electricity at every camping station, and best of all there were full bathrooms. During these trips in the not-so-secluded woods I got to spend a lot time getting to know both my parents and took a lot hikes with my pops. Dude can move like a damn ninja when he hears a rattle snake.


Cabbage Patch Kids Adoption Center
This is probably my most favorite memory of all. Seriously, I was just raving about this place to Rusty the other night; dude probably thought I was nuts cause I was going on & on about a Cabbage Patch hospital haha. My mom took me to this place in the early 90's, I was probably about 7 or so and I got to "officially" adopt my doll, check it's vitals - including listening to it's little itty bitty heartbeat, and buy it diapers and new flashy outfit. Woot! Dream come true? I think definitely yes.
* * * * *
You ready to share? I hope so cause I've got my reading glasses on & am ready to check out some awesome RT posts. Link up below so I know exactly where to find you.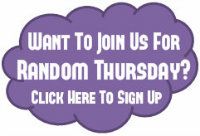 * * * * *
Spread the blogger-love
Our fan-fucking-tastic co-host,
Meg
is putting together a group giveaway in celebration of her bday this month & is looking for some peeps who want to participate in donating a giveaway item (big or small - just please anything other than ad-space...that shit's getting old*).
*that was my opinion, not meg's. she said she'd love anything.