If you're here expecting to see my usual random 10 on Tuesday post then you're probably going to be disappointed cause that's not what going on over here today. But, since you're already here why don't you stick around & see all the rad stuff my Perfect Night In swap partner sent to me.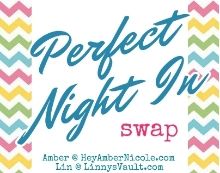 A few weeks ago Amber & I hosted this swap. It was a fabulous turn out, you guys have no idea how great it is to put something out there & have people actually participate. I've hosted over 6 of swaps and I still get the butterflies just thinking that people won't sign up for them. You may have guess, I wasnt always picked first in school activities :/
I was about to go on & on about how shopping for my partner, Katie, was the best part of this swap but truth is it totally wasn't. The best part about all this was receiving my package & tearing that sucker open like it's Christmas morning.
Girl seriously hooked it up with this package. Wow.
1. Fresh Picked Tangerine & Strawberry foam soap
2. the BEST Gummi Bears in the world: Haribo
3. Sugar cookie mix
4. Cake mix
5. Uber cute cupcake liners
6. Zebra magnets (I needed magnets for my fridge. yay!)
7. Chevron pattern composition book
8. White Cheddar popcorn seasoning (the fucking best!)
9. Frosting
10. Big bag of chocolate Sixlets (loved these as a kid)
11. Movie: Just Go With It
12. Movie butter popcorn
13. 500 piece puzzle
14. "Live Love Laugh" wooden decorative sign (seen in 2nd photo)
So yeah, you guys can totally pick your jaws up off the floor. Told ya it was awesome.
I'm starting to think Katie's either my long lost not-look-a-like twin or she's stalking me cause everything in that box is so me. What's even cooler is that our apartment move-in date was moved up to this Saturday afternoon so this package is gonna be just what we need on Saturday night when we've got nothing to do & just need to relax.
Thanks for the awesome stuff Katie!
* * * * *
Everyone else that's received their PNI swap packages & will be posting about it, please dont forget to link up here.
*want to put the linky on your blog post so your readers can check out everyone else's posts? Email me & I'll send you the html.