Welcome to Random Thursday!
If you're joining us for the first time: what took you so damn long, how could you have been missing this awesomeness?! Either way,
Em
,
Sarah
, and I are really happy you're joining us for this weeks topic ->
I'm a huge TV junkie so this topic was right up my alley. There are times when I think I should get a few extra dvr's in the house because there's never enough room on mine for all my shows.
Oh, Rusty wants to record something? Yeah, totally not happening...sucks for you buddy. I know, I'm the best wife evah.
So, here's my ginormous fall tv lineup, by day. Dont judge.
Monday
Forgot to add photo of: Switched at Birth
Tuesday
Wednesday
Forgot to add a photo of: American Horror Story
Thursday
Forgot to add a photo of: The League
Friday
Sunday
I'm almost positive I missed a few but you pretty much get the gist of my addiction.
Now it's your turn, share what your Fall TV Lineup looks like! I may have a lot of shows on my tv dinner plate but that doesn't mean I'm not always on the lookout for more :)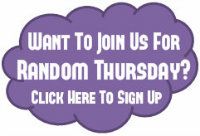 Next weeks topic: First Celebrity Crushes...