Welcome to Random Thursday!
You guys have no idea how stinkin' happy it makes me to see that so many of you fabulous bloggers continue to link up with
Em
,
Sarah
, and I on weekly basis. You guys rock our socks off!
As fun as this topic is, it was SO damn hard for me to narrow it down. For real guys, I could've gone on forever with a list of movies that I tune into when I need a pick me up. Who's a movie buff? This girl *
points to self
* that's who! So much so that I'm even hosting a
Movie Night Swap
...ok, sorry, last time I plug it into a post (again). Promise. Maybe.
Alright, so these are the top 6 movies I put on when I'm feeling down & need a good laugh or just something to make me feel better.
The Wedding Singer: A cute ass love story, rockin' 80's music, crazy stupid fashion, and a fantastic wedding planning montage? I'm in!
Pineapple Express: If you don't think this movie's hilarious it's probably because you haven't watched in the right state of mind. No lie, I know almost all of it by heart.
Fools Rush In: Ever want to know what my family's like? Just watch this movie. Rusty thought he was attending a wedding the first time he came over for a family dinner, yeah, there's A LOT of us. Our favorite quote has to be "the white people are melting out here!" when they're out on the lake for 5 de Mayo. White people really do burn easily. I have to carry around SPF 65 for Rusty everywhere we go.
RockNRolla
: This movie has so many big names in it, it's hard to believe I'd never seen it til about 3 years ago. Great story line, cool English accents, Tom Hardy playing a gay dude, and Thandie Newton & Gerard Butler
dancing together
. Also, that's totally where I got my smooth dance moves from.
National Lampoons Vacation: I love all of the 'Vacation' movies but seeing as this one's the original, it's the best, IMO. You gotta love creepy cousin Eddie & his homemade ketchup.
Just Go With It: Never would I have imagined these two stars making a good movie together but they did. I didnt see it in theaters, which I'm now bummed about, but I make sure to watch it every time it's on TV, even if it's halfway through. Jennifer Aniston in a bikini? Damn, I wish I looked that hot. Brooklyn Decker ain't got shit on her.
* * * * * * *
We'd love it if you joined us!
It's tons of fun & you get to meet lots of new awesome bloggers. Link up with us & share your Favorite Feel Good Movies...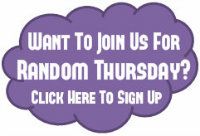 Next weeks topic: Favorite YouTube Videos