Welcome to Random Thursday!
You guys have no idea how much fun
Em
,
Sarah
, and I are having hosting this link up on weekly basis. Not only does it give us something to write about but we also get to check all of you guys out. We hope you're all having as much fun as we are!
Most All of the online videos I end up seeing are shown to me by Rusty. Dude sniffs out these hilarious videos like some kind of hound-dog, for real. Thanks for the laughs, love!
It doesn't get any cuter than these two kids. Look at those round ass heads!
This is EXACTLY how I'd react; "oh my god, I was gonna cut your dick off!"
It's like she's in my head!
And, there's nothing funnier than watching stupid people epicly fail. Makes me laugh every time.
* * * * * *
We'd love it if you joined us & showed us your
Favorite YouTube Videos
. Come on, give us something to laugh at during lunch!
It's lots of fun & as a bonus you get to meet lots of cool bloggers.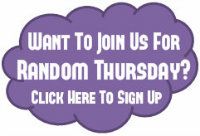 Next weeks topic: My Fall TV Lineup...